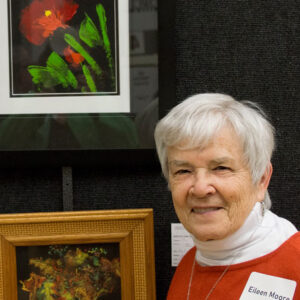 Palo Verde Artist of the Month, August 2021 – Eileen Moore
A native of Montreal, Quebec, Eileen's professional life began as a teacher of English as a foreign language. After moving to the US, she entered the business world in finance, the dairy industry and was a technical writer for a government agency in El Paso, Texas. Eileen's work has taken her into five states before retiring to Sun City in 2015.
Her recreational interests were primarily in music until retiring. Then, she took a class in sketching, and thanks to a great teacher, surprised herself by producing a recognizable image of a friend and was stunned when friends encouraged her to continue. When they discontinued the sketching class, Eileen considered writing but gravitated to making jewelry instead, forming her own company and selling her work at local craft shows and markets on the weekends. She was surprised that she had become more interested in collecting the pretty, shiny bling than selling them when she retired.
On moving to Sun City in November 2015, Eileen decided to make beads in clay but lost enthusiasm, so she began taking art classes in 2018, entered her first show in 2019, and won a second-place ribbon, plus the piece sold. Eileen works primarily in watercolor, colored pencil, alcohol inks, and graphite but has been intrigued by the effect of line and wash. Lately, she has been experimenting with watercolor crystals by Brusho and Bister. She was always an experimenter, and she enjoys trying something new.
Eileen states, "While what I play with may not be new to the artistic world, it is new to me. I love to produce pieces on black backgrounds and have had success in exhibits. Lately, my art has been more impressionistic. I have begun to combine traditional media with non-traditional surfaces, such as painting a seascape on copper with alcohol ink. Was it successful? That is up to the viewer, but I enjoyed creating it. It was fun, and isn't that what we all want? A bit of fun?"
"I often hear people remark that they would love to take up art, but they 'can't draw a straight line,' my answer is that if you can sign your name, you can draw. There are great teachers at the club who can get you started. I am so glad to have found this community and this club that encourages me to express myself", Eileen said with a smile.