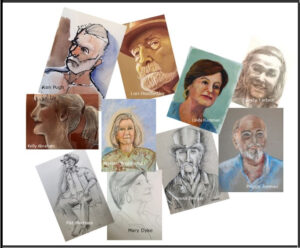 ART GROUP OF THE MONTH – PORTRAITS – MAY 2022
By Mary Stewart, President, with Thanks to Linda Ruckman
Palo Verde Artists has chosen to honor different groups or classes in May, June, and July 2022 for their Artists of the Month. The May Group of the Month is the Portraits Group, which is in its fourth decade of gathering with dedicated members challenging themselves with working with live models. They gather on Thursday afternoons from 1:00 pm to 3:00 pm, except for the club's regular meeting day on the third Thursday of the month, held from October through May of the following year.
Participating members work in various media, from pencil (graphite or color), pastels, watercolor, or oils. Most artists do head and shoulders only though some figural images are also done.
There is no instructor, yet ample opportunity to learn to draw or paint from real life, see how others work, and enjoy a brief group review of that week's paintings and drawings in the last segment of time.
Models are scheduled in advance, and the group is always looking for "new faces." Please get in touch with Pilar at 602.368.4381 if you are interested in being a model. The artists attending each session contribute $3.00, which allows the group to pay the model a $20 fee for sitting. Participating artists of the group must be current members of Palo Verde Artists.
You may see the Portraits Group artwork in the Sundial Recreation Center in the glass showcases by the Palo Verde Club Room, 14801 N 103rd Ave, Sun City. Membership in Palo Verde Artists is $10 per year and is open to RCSC cardholders only.