July 2023 ARTIST of the MONTH
JO PETERSON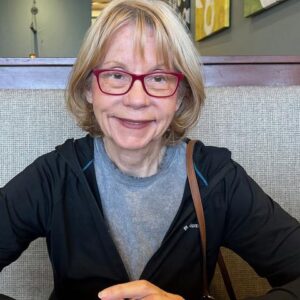 Jo Peterson has been a painter since childhood. Her mother was her first teacher and a big influence. Jo studied design and studio art at the University of Minnesota and Parsons School of Design in New York City. She taught design for several years in the Midwest and studied the arts of handmade paper, bookmaking, and watercolor.

In August 2017, she moved to Sun City and began developing her skills as a pastel artist. For several years she used pastel to study the human figure, landscape, and still life. She paints on a variety of surfaces and also creates mixed media works.
In 2020 during the Covid pandemic, she took a class on Zoom to learn techniques and options for painting landscapes with a new experimental medium, alcohol ink. Having worked with watercolor during the 70s and 80s, her interest in composition and execution of abstract landscape painting was rekindled. Using alcohol ink, she lays down wispy patterns of color and, using a variety of markers, she adds lines and patterns and often a touch of realism to complete the composition. She uses the interplay of sky, land, and water along with the flow of color, light, and contrast to heighten the viewer's interest and imagination. Jo states, "Making something out of nothing is what an artist does."