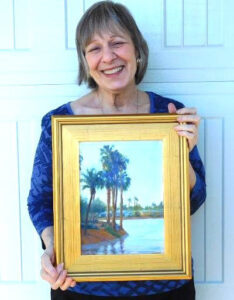 Linda is from Plankinton, SD. Her first drawings were pencil drawings of dress designs for her paper dolls. Her interest in art led her to Walter Foster books on fashion design, animals, figures, and portraiture. She had art projects in elementary school and received a BA in art from Northern State College in Aberdeen, SD. Her career, however, was working for the American Cancer Society in Minnesota in volunteer training and development.
In 1992, Linda met Elizabeth Manfredi, a well known and gifted artist and instructor. Linda attend-ed Elizabeth's painting trip to Brittany the following year and discovered a love of painting land-scapes. For two weeks, twice a day, she painted various sites along with a small group of other painters. In the years that followed, she joined Elizabeth on painting trips to Provence, Florence and Genoa and also attended Elizabeth's Saturday morning figure drawing co-op at her St. Paul studio. Many of Linda's paintings have been inspired by photos she took on her trips to Europe.
After her retirement in 2013, Linda and her husband, moved to Sun City, where she joined Palo Verde Artists. At PVA she took classes in pastel and acrylic with Malcolm Blazer and beginning oil with Bruce Cody and regularly attends live model painting on Thursday. She believes art is a journey and feels fortunate to have had instructors who have been of great help to her along the way. Linda states "One of the best things about Sun City art classes is how much you learn not only from the instructors, but from your fellow art students." Linda continues to benefit from classes and workshops. At Palo Verde, Linda has served as treasurer and education co-chair. She is also a member and current president of Artists by the Lake.